Talent
Specialties
Planning Links
Alex Ramon
---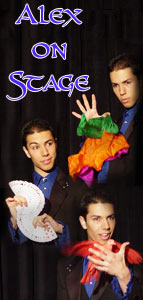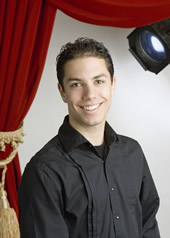 Alex Ramon Gonzalez was already "San Francisco Bay Area's Best Stage Magician" from his victory at the Bay Area Interclub Stage Competition, when he won the coveted Lance Burton Award for Top Teenage Talent in 2004 at the World Magic Seminar in Las Vegas. Performing his 8 ½ minute dove act, he competed with magicians from around the world to also win first place and the title of "National Stage Magic Champion" at the age of 18.
Alex Ramon went on to perform about 250 shows a year all over the country. Returning to Las Vegas in 2005, he auditioned for Disney Live! presents Mickey's Magic Show, and received a spot as a professional Illusionist alongside Master Magician Mickey Mouse in the brand new stage production currently touring the world.
Growing up in Richmond, California, Alex Ramon developed an interest in magic when he was thirteen years old. His father's colleague was a magician, and he showed Alex Ramon magic tricks every chance he had. Taking notice of his son's growing interest, Alex Ramon's father bought him a 370-page magic book for Christmas so Alex Ramon could learn his own magic.
Adapting his magic to performance, the 15-year-old unveiled his first show at a family gathering. Later, Alex Ramon worked at a local restaurant, performing close-up magic for guests. Honing his skills as an entertainer, Alex Ramon gained the confidence he needed to enter his first competition at the age of 16. Placing second as one of the youngest competitors, he began to make a name for himself as a talented magician in the Bay Area.
Hired shortly thereafter as a spokesperson for a library showcase, the teenage magician traveled across the state of California to perform magic on behalf of the public library system. He had a strong connection — he learned the art of magic by reading books.
From a statewide library showcase to winning the San Francisco and Bay Area Interclub Stage Competitions at age 17, Alex Ramon had turned himself into an award-winning performer. He went on to conquer the World Magic Seminar in Las Vegas.
Excited to take his magic a step further, Alex Ramon is thrilled to be on a Disney show that will tour the globe. In the show, he showcases his signature sleight-of-hand magic, which amaze and mesmerize all who see it.