Talent
Specialties
Planning Links
Paul Coggins
---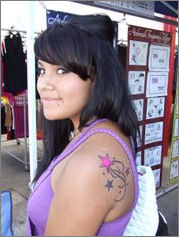 Whenever our family went on vacation, either to Hawaii, or visited Six Flags Great America, Six Flags Vallejo, Universal Studios Hollywood, Universal Studios Orlando, or other festival or event, my step-son Robert would always want to get a temporary tattoo. He was so happy and wanted it to last forever. Although we would never allow him to get a real tattoo, we certainly had no problem letting him express himself with a temporary tattoo using a safe, non-toxic, FDA approved body paint.

The keyword here is "temporary" as they can be removed from the skin in less than a minute. Kids, teenagers, and young adults get instant gratification and parents have peace of mind. What a great combination. So whether you are 7 months old, 100 yrs old, or anywhere in between, it is bound to make you smile. So when looking to start a family business that was both fun, yet flexible enough to fit nicely into family life, the airbrush temporary tattoo business fit the bill perfectly.

With his wife Karla and step-son Robert at his side, Elite Airbrush Tattoo was born. It is a family affair that aims to put a smile on your face.Now that Robert is a bit older now, he is eagerly wanting to learn the business too. He is my assistant while at events and wants to be an airbrush tattoo artist as well. So if you see him at events, be sure to say hello. Also, my beautiful wife Karla assists as needed and makes the whole operation run smoothly.At Elite Airbrush Tattoo we use the highest quality body art paint and equipment made in the USA to produce the best temporary tattoos. Now with over 800 designs to choose from, there is something for everyone.