Talent
Specialties
Planning Links
Norton Wisdom
---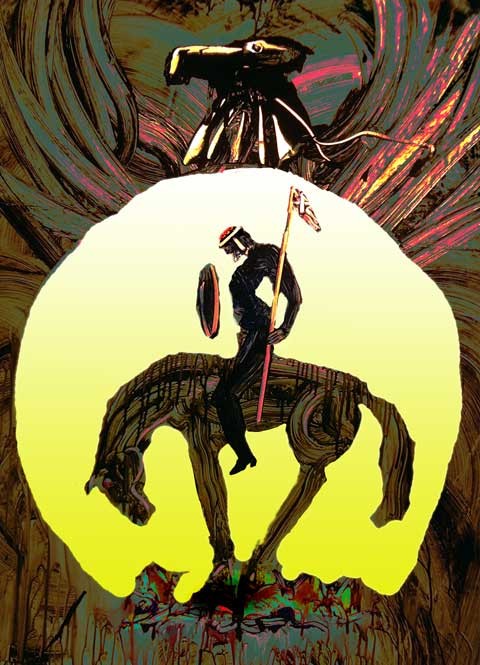 From 1979, performance painter Norton Wisdom has worked with musical ensembles and spontaneously paints images that capture the essence of the moment and has exhibited and be colleced by museums and galleries around the world. You must see this unique and original artist perform live with a band to appreciate his talent!
Performance Collaborations: Disney concert hall with organist Christoph bull: Monterrey jass fest 2005. Lincoln center united nations "bloodless diamonds": Winter Olympics 2002, Salt Lake. Opening of the Baliagio Hotel Las Vegas. Premier of the Cirque Du Soleit, Las Vegas. grand performance los angeles. ucla live Royce hall organica: llynn Foulkes, church of art: Jazz--- Willie Waldman, Big Black, Charles Owens, Ernie Andrews, Venny Golia, Bobby Matos, World Music--- Badal Roy India, kuan ke Orchestra Tibet, Nation Bamboo Orchestra of Bali , Aneliqu Kidgo and Zola South Africa Rock--- Daniel Lanois, Steven Perkins, Ivan Neville, Bernard Fowler(Rolling Stones) Lili Haydn, Flea (Chili Peppers). Darrel Jones (Rolling Stones). Jaguars (Mexico).p-funk george Clinton, christoph bull classical organ germany, Beck, Mike Watt, Rob Wasserman, John Mollo, David Navarro, Nels Cline, Zam Johnson, Eddy Snakepit, Lynn Foulkes, DJ Nobody, d.j. logic, L.T.J. Bukem, Ray White (frank zappa), Marc Ford (Black crews).
Museum collection in and Festivals performed at: Coachella, California. U.C. Santa Barbara art museum, Laguna art museum, Skerball museum, Orange county art museum, San Diego Museum, World Music Womad, Milwakee Museum Art, New Port museum of art, Sledian Museum of Art Nebraska, Santa Clarita Museum of Art.