Talent
Specialties
Planning Links
Dale Snodgrass
---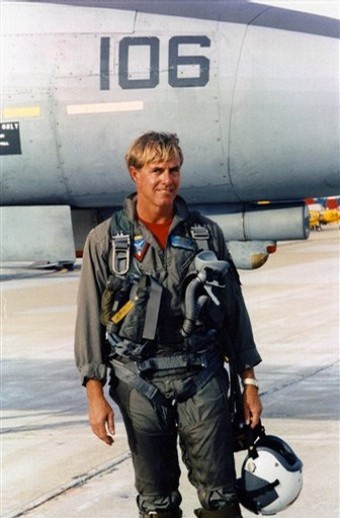 "Captain Dale Snodgrass, (better
known by his call-sign: Snort),
is a living national treasure and
among the greatest fighter pilots
of our times. I've flown with
Snort, watched him teach and
groom generations of fighter
pilots, and the way Snort is able
to articulate those skills to others
is like no one I've ever seen.
There aren't many people on this
earth that I hold in higher regard than Captain Dale Snodgrass."
- Admiral Jay Johnson,
(26th Chief of Naval Operations of the United States of America and member
of the Joint Chiefs of Staff under Presidents Clinton and Bush).
With over 5,000 flight hours and 1,287 arrested carrier landings in the famed Grumman
F-14 Tomcat, Snort is the most experienced Tomcat pilot in the world and a highly
decorated combat veteran. At the end of Desert Storm, then Commander Snodgrass was
promoted to Navy Captain and was selected to command all Tomcats in the US Navy.
Capt. Snodgrass joins a very small select group of pilots that are allowed to fly with
active duty modern fighters at air shows throughout North America and Europe with the
Air Force Heritage Flight Program.
BIOGRAPHY
Son of a Test Pilot, Dale Snodgrass grew up in Eastern Long Island, NY. He attended the
University of Minnesota on a Naval ROTC Scholarship and received ALL-AMERICAN
status as a member of the swim team, graduating in 1972 with a BS in Biology.
Receiving a regular Commission, Ensign Snodgrass entered Naval Flight Training in
September, 1972. After 26 years of decorated service, Captain Snodgrass retired in June
1999.
Navy highlights include:
- First Flight School Graduate to be selected for F-14 Tomcat training.
- First non fleet experienced pilot to carrier qualify in the F-14 both day and night.
- 12 operational Fighter Squadron/Wing tours.
- Honor's graduate from Navy Fighter Weapons School - TOPGUN
- Selected as the Navy's Fighter Pilot of the Year in 1985.
- Selected by Grumman Aerospace as "Topcat of the Year" - Best F-14 Pilot in1986.
- Command of Fighter Squadron 33 during Desert Storm.
- Led 34 successful multi-plane strikes of 30 plus aircraft without a loss.
- Highest time F-14 Pilot ever, with 5,000 hours in the Tomcat.
- 7,800 hours in Fighters and10,000 hours total, including 1,287 Carrier Landings.
- Tomcat Flight Demonstration Pilot 1985-1997.
Captain Snodgrass's Military Decorations include:
- Legion of Merit (3) for superior performance in positions of great responsibility.
- Bronze Star for Leadership and Valor during Desert Storm.
- Meritorious Service Medal (2) for exceptional service in a position of Senior
Leadership.
- Air Medal (3) for Valor during Desert Storm.
- Navy Commendation Medal (3) for Valor during Desert Storm.
- Numerous Campaign Medals and Service Ribbons.
Captain Snodgrass's Civilian Aviation and Airshow highlights include:
- Volunteer instructor for the Kenya Wildlife Service Pilots in Kenya bush 2001,
2002, 2003, 2004 and 2006.
- Member of the Board of Directors of three Aviation Museums; Kalamazoo
Aviation History
- Museum, National Warplane Museum and the Wings Over Miami Museum.
- 19 years of Airshow experience and over 850 performances.
- Surface Solo and Formation Aerobatic qualified in F-14 Tomcat, F-86 Sabre, Mig
15, Mig 17, P-51 Mustang, F4U Corsair, Curtiss P-40, T-6 Texan/Harvard and
8KCAB Super Decathlon.
- Designated one of only ten USAF Heritage Pilots.