Talent
Specialties
Planning Links
Atmos Trio
---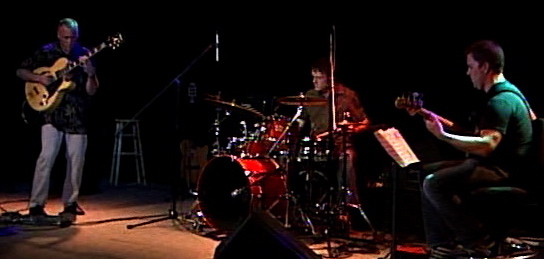 The members of the Atmos Trio are all extremely well-rounded musicians. Having been hiring their services out to other musical projects in every conceivable musical styles for years, it wasn't until 2004 that the Trio decided to pursue their own muse. Combining singable melodies usually associated with "pop" music, unexpected harmonic and tonal shifts of moderns jazz and World textures, the Atmos Trio is busy carving a unique niche for themselves. Mix these elements with stunning solo and ensemble improvisations and the Trio will take you on a musical journey not soon forgotten.
Over the years, it seems like the members of the Atmos Trio have played almost everywhere for everyone. Here is a short cross-section of clients, festivals and venues for whom we have worked:
Corporate Clients
Sun MicroSystems, 3-com, Yahoo, Microsoft, Sony, Seibel, Excite, Lucas Arts, SF City Hall, The Tech Museum, SFMOMA, Peavey Corporation, Motorola, Bank of America, MacWorld Convention, SF Culinary Institute, Oracle, Apple, AMD, Adobe, Genentech, Coldwell Banker, Mervyn's, Cisco, Emeryville Chamber of Commerce, National Association of Broadcasters, Sonoton Music/Sundance Film Festival, Audio Technica, Clear Channel/Bill Graham Presents, NAPTE Convention of Television Professionals.
Wineries
Atmos is always playing throughout the Napa/ Sonoma wine country, and performed at:
Quintessa, Wintey Bros., Frazier, Kolgen, De Loach, Roseville, Spring Mountain, Louis Martitni, Domain Chandon, Paul Mason, Clo Pegase, Sebastiani, Pine Ridge and Paradise wineries... to name but a few.
Festivals/Venues/Concerts
Great American Music Hall, Slim's, The Fillmore, The Warfield, Oregon Country Fair, Burning Man, Moscone Center, NAMM Convention, Hog Farm, EarthDance, Sierra Nevada Music Festival, Bach Dancing and Dynamite Society, KFOG.