Talent
Specialties
Planning Links
Bruno Pelletier Bacquaert
---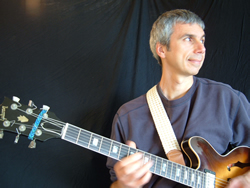 I studied guitar and Jazz Composition at the University of Miami, FL with Randall Dollahon & Ron Miller. I also studied with John Hart, Dave Creamer, Barry Harris & film-scoring with Laurent Petitgirard. I moved to San Francisco in 1987 where I now work as a free-lance guitarist, bandleader and educator-- with performances at the world-renowned Jazz club Yoshi's with my own Quartet, at the SF Museum of Modern Art, at local Jazz Festivals, and at the Mill Valley International Film Festival.
I have played with Buddy Collette, Sonny Simmons, Norah Jones, Bruce Dunlap, Trevor Dunn ("Mr. Bungle", "Fantomas", John Zorn), Reid Anderson ("The Bad Plus"), Jenny Scheinman, Ben Monder, Steve Cardenas, Kenny Wollesen (Bill Frisell), Phillip Greenlief, J. Granelli, Adam Levy (Tracy Chapman, Joey Baron, Norah Jones), percussionist Mingo Lewis (from "Santana"), African World Beat group "Zekele Sounds", and the"Broun Fellinis". Aside from writing and performing original compositions, I have been working on a "French singer-songwriters project": adapting songs by Serge Gainsbourg, Georges Brassens, Jacques Brel & Charles Trenet and using them as new "standards" (or "vehicules") for adventurous instrumental Jazz improvisations.
Wrote the original score for the experimental film "The Making of El Capistrano" by avant-garde director Claire Bain. Original music performed by the Bruno Pelletier-Bacquaert Quartet is also featured on the 2006 television movie "The Best Kept Secret", produced by the San Francisco Academy of Arts University and made for the "Documentary Channel".