Talent
Specialties
Planning Links
Cocktail Monkeys
---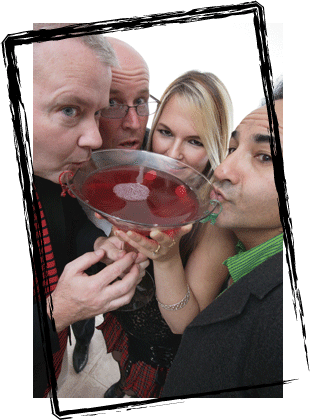 Swing into the scene with a Bay Area favorite
The Cocktail Monkeys bring you more than exciting music and perfect vocal harmony; they bring fun, camaraderie and professionalism to each show. With an alluring and powerful stage presence, from the first song, Renee leads you through a fantasy evening covering your favorite songs by your favorite bands. From note one, you realize you are among the Bay Area's top notch musicians. Mark St. John plays a screaming guitar while Bobby Asea sets the beat on bass with Will Diamond keeping it rock steady all with the drive and passion you will come to see as the heart of the Cocktail Monkeys.
Professional showmanship and the goal of "a good time had by all" mark the purpose of this band. When you hire the Cocktail Monkeys for your event you know you have set the stage for your guests to have a wonderful and exciting time, dancing and enjoying the sounds and stage presence of each band member. Covering the best of decades from the 60's through current favorites, their songs range from rock, pop, funk and disco. Audience participation is not overlooked when you never know who will be selected to come up and join in on cowbell. Select shows may feature the popular go-go cage upon request. 'Return of the cage!" nights invite guests to shake it up on stage!
For a unique and lively musical adventure it's…
The Cocktail Monkeys: Served shaken, not stirred.