Talent
Specialties
Planning Links
Candela
---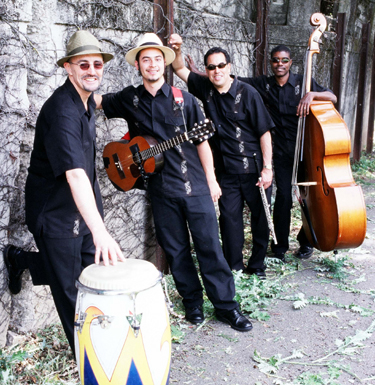 Candela is a nine piece Salsa Band, based in the San Francisco Bay Area since 1987, and is composed of piano, bass, three trombones, conga drums, bongo drums, timbales and vocalists.
Smaller versions of the band are also available upon request!
Candela has built their 20 year reputation around Edgardo's impressive skills as a conga drummer and lead singer simultaneously -which is a show in itself-, the pristine vocals of Sandy, the incomparable tight rhythm-piano-bass section of Eric, Omar, Bob and David, and the most powerful trombone playing in the area by Jeff, Marty, and John. Regardless of all that, the Band truly focuses on pleasing the audiences dancing needs.
Candela's varied repertoire explores a wide array of Latin rhythms including Son, Bolero, Mambo, Cha-cha-chá, Merengue, Cumbia and the more contemporary Cuban Timba, combined with a touch of Jazz, which makes the band enjoyable for dancers as well as listeners. Besides Edgardo's great original songs, the band plays a combination of danceable arrangements by composers as Rubén Blades, Ray Barreto, Eddie Palmieri, La India, Pete "El Conde" Rodriguez, Oscar D'Leon, Guaco, Los Van Van and Isaac Delgado. They are as well versatile in playing background Latin Jazz.