Talent
Specialties
Planning Links
Shabaz
---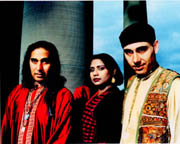 Combining eleven generations of vocal history with a modern global sensibility and the wicked rhythms of the dance-floor comes Shabaz.
Their self-titled debut for Miles Copeland's Mondo Melodia label seamlessly blends ecstatic Qawwali singing with grooves and modern instrumentation for an intoxicating 21st century fusion of music.
Shabaz features the voices of siblings Sukhawat Ali Khan and Riffat Salamat, the living embodiment of the ancient Sham Chorasi singing tradition.
The pair can date their lineage back to court musicians for ruler Akbar the Great. Their father, Ustad Salamat Ali Khan, was one of the great classical Indian singers, and an influence on the legendary Nusrat Fateh Ali Khan. Sukhawat began singing at the age of seven, and has performed around the world for presidents and kings.
Renowned for his technique and passion, he shares vocal duties with sister Riffat, whose siren sensuality and harmony burn with the Qawwali Sufi tradition, making her a rare female exponent of a style from which women are generally discouraged.
"Zindagi"
City of Tribes Records
Together they create a stunning vocal magic, and take Qawwali to places it's never been before, as on "Jule Lal" where the voices weave an exotic tapestry over lush beats American multi-instrumentalist and producer Richard Michos, the third member of Shabaz, has spent years exploring Indian music as both player and scholar.
With influences ranging from Zakir Hussein to Jimi Hendrix and dance music, he brings an open Western sensibility to the band's sound, adding the colors and textures of hip-hop, dance, rock, and ambient music to create a heady, irresistible mix. (more) As the Ali Khan Band, Shabaz (which translates as 'Chief Eagle') recorded two albums for City of Tribes.

"Taswir"
City of Tribes Records
Their 1998 debut, Tawsir, roared to the top of the CMJ New World Music chart, and Zindagi, (Urdu for 'Life') their follow-up disc, reached similar heights in 2000. Based in the San Francisco area, they've played with artists like Femi Kuti and King Sunny Ade, transporting crowds with every gig.
They've continued to work and shape their sound, polishing and refining, pushing their unique talents across more musical boundaries, from the rhythmic richness of "Lashkara" to the experimentation of "Chhalia," where club beats frame intoxicating, passionate vocals.
They have their unique vision of a true world fusion, where continents and histories come together in the music of the dance. Shabaz also includes two tracks, both recorded at Chateau Marouatte in France during May of this year, when the band joined other musicians at a recording week organized by Copeland. "Queenie's Jam" was produced by the estimable Narada Michael Walden, after being approached by Riffat, and mixed at Walden's Tarpan Studio in San Rafael, California.
The track includes guitarist Damon Lee and sha'bi star Hakim on vocals. "Raga" was a collaboration between Riffat and English band Zohar, whose own album is due later this year. As Sukhawat Ali Khan says, "It's an extraordinary time for communicating through music.
Music is becoming a melting pot, a place where cultures cross." It's a place Shabaz have made their own. Where the beat meets the spirit, and the past brushes against the future, that's where you'll find Shabaz.
Let the bliss begin here.