Talent
Specialties
Planning Links
Silicon Valley Houserockers
---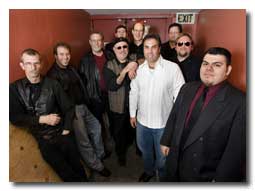 The Silicon Valley Houserockers are a rock and roll band out of Los Gatos, CA that plays the greatest rock & roll songs ever recorded. With a wailing 5 piece horn section and rock solid rhythm section of 2 guitars, bass, drums and keys, we bring the timeless rock and roll classics to life.
The music is rock & roll and classic rhythm & blues. Start with the opening riff of the Stones' Satisfaction, the good time boogie of the Sam & Dave's Soul Man, the undeniable groove of Mustang Sally, or the driving rhythm of Santana's Smooth. Add a healthy dose of honky tonk piano, swirling organ, driving drums, twangy guitars, thumping bass and the richest, hottest horn section you've ever heard and the party is in full swing. It's a recipe for a great time and the Houserockers deliver the goods. The spirit of Elvis, The Stones, Joe Cocker, Tom Petty, Bruce Springsteen, Credence, Otis Redding, Wilson Pickett, Van Morrison are present at every Houserockers show.
The Houserockers are comprised of experienced and talented musicians who come together to put on the best rock and roll show in town. Our shows bring together elements of big band swing, blues, 60's soul and R & B, and, of course - rock and roll! Every song is performed with the passion and power of the originals. Every night our audience is invited to go on a wild ride with us but In the words of Bruce Springsteen, "the door is open, but the ride ain't free, " Audience participation in the form of non-stop dancing, singing, screaming, and laughing combine to make anything possible whenever we play.
Great rock and roll still strikes a chord with people. When the Houserockers take the stage, for a few hours people can leave the rest of the world behind and play air guitar, pump their fists in the air, sing along to songs that they have carried with them all their life, and dance with friends and strangers alike until the days challenges have been put into perspective. Most of all, they have a great time. To bring a great rock and roll show to your venue or event, contact The Silicon Valley Houserockers.
Have you heard the news? There's good rockin' tonight!