Talent
Specialties
Planning Links
Floorshakers
---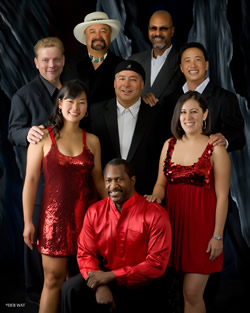 Look no further -- The Floorshakers are your one stop shop for a funky, exhilarating, high-energy, live dance and party band!
Since the group's inception in 2003, The Floorshakers have been performing funk, soul and rock 'n' roll hits all over the San Francisco Bay Area, expanding into new genres including R&B, Latin and current top billboard hits. While at heart, their influences include legendary bands and musicians such as Earth Wind & Fire, Tower of Power, Stevie Wonder, Aretha Franklin, Confunkshun and Santana, you'll be sure to hear all kinds of music from The Floorshakers from a variety of genres that will keep your feet movin' and your hips shakin'! Always dressed to impress, you will not be able to resist this group's spirit, energy and funky groove.
Notably, for three years running, The Floorshakers have consecutively SOLD OUT in advance New Year's Eve parties for crowds of over 1,500 people.
The Floorshakers offers a full range in pricing and package options to meet your entertainment needs, including live band and DJ service combination packages, lighting effects or even adding a complete horn section if you're looking for more than the core nine-piece band. In addition, through its longstanding relationships and contacts within the community, The Floorshakers have several partnerships with top quality professionals who can assist you with your other needs such as photography, publicity, making shirts, hats or gear for your special event and website creation.
Click here for songlist