Talent
Specialties
Planning Links
Fast Times
---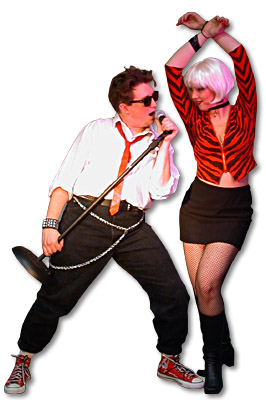 Where were you in the 80s? Playing Pac-Man? Watching General Hospital? Enjoying the spoils of Reaganomics? Whatever your memories, Fast Times will bring them all flooding back with a smile--and a backbeat you won't be able to resist.
Fast Times plays the ultimate dance hits from the ultimate decade of decadence. From A-Ha to Young MC, every song is an instantly recognizable hit guaranteed to get audiences on their feet and celebrating. From the birth of new wave and the dominance of synth-pop to the ragged edge of rock and the dawn of alternative, Fast Times covers it all. Just don't call it "retro"--Fast Times is powerful proof that the music of the 1980s is alive and kicking, here and now.

Currently in its seventh year, Fast Times has hammered out the high-energy hits at Slim's, The Red Devil Lounge, The Paradise Lounge, Blake's on Telegraph, Black Oak Casino, Fat Cat Music House & Lounge, Tongue & Groove, Golden Gate Fields, The Park, Mountain Charley's, Kimo's, Black Diamond Brewing Co., City Beach, Boswell's, The British Banker's Club, and The Shops at Blackhawk Summer Concert Series--not to mention private and corporate functions for Electronic Arts, NUMMI, Shell Oil Corporation, IDG Entertainment, Blackstone Technologies, and more. Fast Times...the 80s dance party that's totally live and totally awesome!