Talent
Specialties
Planning Links
Kristal Schwartz
---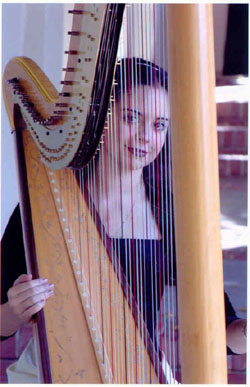 Kristal is a native of Santa Clara Valley who has been performing on the harp for over ten years. She's in demand for weddings, private parties, afternoon teas, graduations, open houses, grand openings, or any special event. Clients appreciate Kristal's attention to detail and her ability to bring out each client's personality in her selected repertoire. Kristal enjoys those engagements where she is able to provide an extraordinary atmosphere that is conducive to conversation, companionship, and memorable moments for those in attendance.
"When I was three I was first exposed to the harp while attending a party. Although it sounds funny, I knew then I was supposed to play the harp!" Kristal recalls. Her parents thought it might be a passing fancy, but Kristal's persistence eventually brought about harp lessons and her very own harp.
Although Kristal enjoys using her musical skills in many venues, she is particularly drawn to small, intimate occasions. These circumstances allow her to see the effect that her music has on her listeners as it transforms stress into tranquility – hurriedness into serenity.