Talent
Specialties
Planning Links
Carla Helmbrecht
---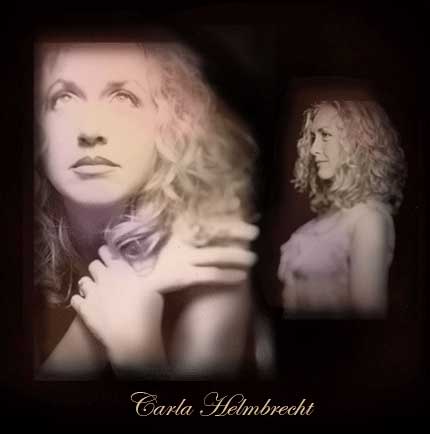 Vocalist Carla Helmbrecht has been cultivating her craft since the age of 8 when she began taking piano lessons and singing. A native of Wisconsin, Carla was raised in a large music-loving family, and had an inherently deep desire for music. It was her father who introduced her to jazz, and it was not uncommon for the entire family to spend endless evenings making music. At age 13, she began singing professionally, as she continued piano studies. Her early influences include traditional jazz greates such as Ella Fitzgerald, Sarah Vaughan, Julie London, Count Basie, and Dave Brubeck. Later influences include Shirley Horn, Nancy Wilson, Cleo Lane, and Miles Davis.
Carla later continued her jazz studies in West Texas, singing with the Texas Tech University Jazz ensemble under the direction of Alan Shinn. While playing and touring with the university band, she had the opportunity to perform with and open for jazz notables such as Tuck and Patti, the Yellowjackets, Louie Bellson and Tony Campise. Carla was featured on the Texas Tech University Jazz Ensemble's CD "Seein' The Light... Hearin' the Hub-Tones" (1997).
In July of 1994, Heart Music announced the release of Helmbrecht's debut "One For My Baby" which showcases a collection of traditional jazz standards (and some not-so traditional). She is joined by a host of world-class musicians from Los Angeles, Chicago, and Dallas areas such as Clay Jenkins (trumpet - Kenton, Basie, Buddy Rich), Kim Richmond (alto sax, clarinet - Richmond Big Band, Natalie Cole) Chris Seiter (trombone - Bob Mintzer, Brecker Brothers) and Frank Mantooth (piano and arranger (Grammy nominee, writer). With tasteful and sometimes surprising arrangements, "One For My Baby" offers the listener a distinct flavor of an era passed, with a unique timely and sensual twist.

Following the release of her debut CD, Carla relocated to the San Francisco Bay area and began performing with the Black Market Jazz Orchestra (BMJO), under direction of Jeff Nuss, and was featured on the BMJO's 1998 CD "Seasons Greetings". Carla performs regularly at SF venues including Top Of The Mark (Mark Hopkins Hotel) and numerous other public and private events. She has been a featured performer at numerous events such as the KXJZ Sacramento Jazz Concert Series, in the cabaret production of Sassy Divas, the Song Fest Tribute to Carol Coates, the San Francisco International Film Festival, and the San Jose Jazz Festival. Carla can also be heard singing on primetime television shows such as The Young & The Restless (ABC) and The District (FOX) as well as a recent ShowTime movie, "Sixteen Candles" singing a Joel Evans original.
On January 30th, 2001, Heart Music released Carla's "Be Cool Be Kind," featuring Ernie Watts (saxophone - Buddy Rich, Jean-Luc Ponty, The Tonight Show Band with Jonny Carson, "Chariots of Fire" soundtrack, Lee Ritenour, Stanley Clarke, Charlie Haden Quartet, Rolling Stones) Joe Labarbera (drums - Bill Evans, Chuck Mangione, Tony Bennett), Tom Warrington (bass - Rosemary Clooney, Lionel Hampton, Mel Torme, Stan Kenton, Stan Getz, Hank Jones, Patti Page), Peter Horvath (piano, arranger, producer - Joe Henderson, Aretha Franklin), Clay Jenkins (trumpet - Count Basie, Harry James,Stan Kenton).