Talent
Specialties
Planning Links
Anton Jazz
---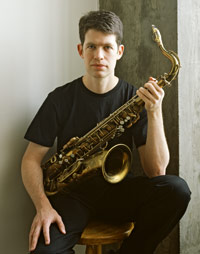 Jazz saxophonist Anton Schwartz has been drawing listeners in with the power, spirit and subtle complexity of his music since he bounded onto the San Francisco jazz scene in 1995. At 27, Anton was answering the call of his long-standing passion for jazz, stepping away from the high-level research in Artificial Intelligence he'd carried out at Harvard and Stanford. Quite a career change. Once in action as a musician, Anton quickly gained an enthusiastic following as music fans responded to what the San Francisco Chronicle recently called his "warm, generous tone, impeccably developed solos and infectious performance energy."
In the years since, Anton has won over listeners and critics at high-profile jazz venues across the country, including the Blue Note in New York, Washington D.C.'s Blues Alley and the Monterey Jazz Festival. His frequent appearances at Yoshi's in Oakland draw sellout crowds; one such concert was broadcast nationwide on NPR's JazzSet with Dee Dee Bridgewater in December, 2005. Each of his four CDs has earned sterling reviews and strong airplay, with his most recent Radiant Blue landing Top Five on the national jazz radio charts. While his own writing earns consistently high praise, Anton remains as much at home with the great jazz standards as he is with his own compositions.
"What I require for music to really captivate me," Anton says, "is groove and intellect working in tandem. Music that gets into your bones, into your head and into your heart. I want to create music that conveys something intriguing--through the rhythm, the structure, the interplay of melody and harmony--and distill that down into something clear and beautiful."