Talent
Specialties
Planning Links
Hot Buttered Rum
---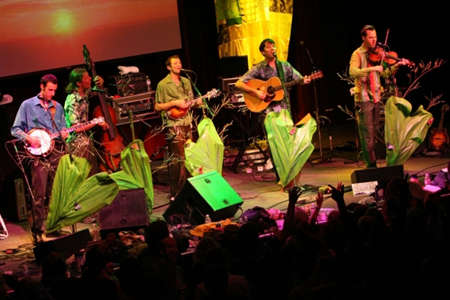 Hot Buttered Rum, one of the hardest-working and fastest-rising stars in the musical firmament, has become, over the last five years, a group that is infinitely greater than the sum of its parts. It began with a core of five uniquely talented musicians, writing and singing songs on the mountaintops and city streets of Northern California; five musicians who, on the night they realized they loved playing together too much to ever stop, were sipping a warm buttery drink from which the group derived its name. Since that fateful night, the organization has steadily expanded to include a rich tapestry of fans, friends, and family, reaching from coast to coast.

Often described as a rock band playing bluegrass instruments, the band melds blues, folks, bluegrass, jazz, and rock, and the members' varying degrees of classical training lead them to invest heavily in group composition. The widespread appeal of HBR's music stems not only from the band's musical versatility and prolific songwriting, but also from the magnetic chemistry the group creates onstage together. It is this chemistry that is propelling the band to ever greater success.


**Joel Nelson Productions is NOT the primary booking agency for Hot Buttered Rum!