Talent
Specialties
Planning Links
Dick Bright's SRO
---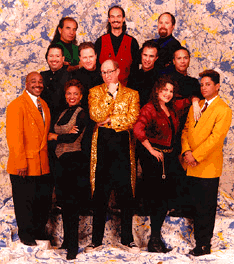 Dick Bright's SRO is the party band that will make that happen. The ultimate in dance entertainment, SRO is like no other band you've ever experienced. Clever costumes and props, zany skits, hip-hoppin' choreography and soul-stirring vocals are all set to a pulsating beat. Visually as well as musically exciting, it's MTV, Las Vegas and American Bandstand rolled into one hot act.
No other band has such a vast repertoire. Not just the same old standbys so many groups perform, the SRO play list features top dance hits from the 60's, 70's, 80's and 90's that go beyond the expected. And SRO is constantly updating its repertoire with new material.Several bands within a band, no other group is as versatile.
For and smaller, more intimate events, you may prefer SRO Lite, featuring 13 of the 19 members of SRO. If you have another night's entertainment to schedule, the Dick Bright Orchestra offers a change of pace with 4 to 16 musicians. Or, if your group is looking for a hot night at the beach, 7 members of SRO don Hawaiian shirts and come out as Surfin' Dick's Swingin' Beach Party. SRO can also do a tribute to the 50's, an all-Motown revue or a sizzling set of 70's disco hits. The musical possibilities are almost endless.

DICK BRIGHT'S SRO VIDEO