Talent
Specialties
Planning Links
San Francisco Taiko Dojo
---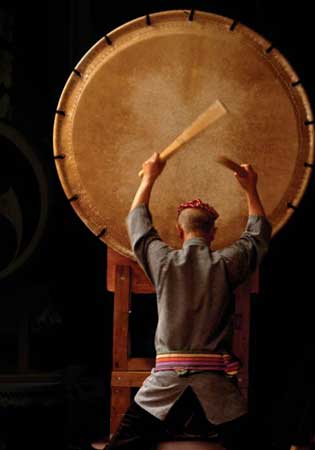 An Experience Like No Other
In concert, San Francisco Taiko Dojo, under the direction of Grand Master Tanaka, is an experience like no other. The performance is visual, audio, and visceral. The combination of traditional and contemporary rhythms, dance, and martial arts transcend the physical and are often described as spiritual.
The essence of San Francisco Taiko Dojo is that it is not strictly a performance organization, but rather a school. Focusing on the spiritual and martial arts aspects of the art, the Dojo teaches not only the skillful playing of percussion instruments, but also the discipline of mind and body in the spirit of complete respect and unity among the drummers.
Physical Stength and Stamina
According to Grand Master Tanaka, physical strength and stamina are critical, and his students are put through a disciplined and strict physical regimen, in addition to hours of pounding on drums. Yet, he also stresses that it takes more than physical strength to make the drums thunder. "Big muscles can produce a big sound," he said, "But the quality of the sound comes from inside—a flow from the performer to the drum, or Ki.
Hear, Watch, See, and Feel the Sound
The longevity and success of San Francisco Taiko Dojo is attributed to Grand Master Tanaka's unique style of Taiko which is highly improvised. "Most people just listen," he said. "I want people to not only hear the sound, but also watch the sound, see the sound, feel the sound." Although the group is highly trained and their performances may appear to be highly scripted, there is a lot of improvisation and every performance varies. "There's a lot of creativity," he said. "You play it by feeling. There is a lot of communication between the drummers and me, a lot of contact. They instinctively know what the others are going to do."
Throughout these past 35 years, Grand Master Tanaka and San Francisco Taiko Dojo has gained worldwide attention and has performed in Japan, Germany, France, Switzerland, Austria, Israel, Mexico, Brazil, Cuba, across the United States, and throughout California. Notable performances include Carnegie Hall, before Emperor Hirohito, Hiroshima 50th Commemoration ceremony in Japan, Ashland Music Festival, Vanderbilt House International Festival in North Carolina, annual Black Ships Festival in Rhode Island, Oakland Coliseum for Nelson Mandela, Ticotin Japanese Museum in Israel, and the Major League Baseball All-Star Game celebration. "My life's work is to popularize Taiko to the world," said Grand Master Tanaka.
Performances with a Diverse Line Up of Music Legends
Grand Master Tanaka and San Francisco Taiko Dojo have collaborated and performed with a diverse line up of luminaries in the music industry, including such legends as Tony Bennett, Bobby McFerrin, Dave Brubeck, Art Blakey, Tito Puente, Babatunde Olatunji, Orlando "Puntilla" Rios, "Patato" Valdez, Benito Concha, Narada Michael Walden, Kitaro, Mickey Hart, Mario Bauza and Max Roach.
Featured in Major Motion Picture Movies
In addition, Grand Master Tanaka and San Francisco Taiko Dojo has been featured in four major motion picture movies—Phillip Kaufman's The Right Stuff, and Rising Sun starring Sean Connery and Wesley Snipes, George Lucas' Return of the Jedi, and Francis Ford Coppola's Apocalypse Now.