Talent
Specialties
Planning Links
Rolando Morales
---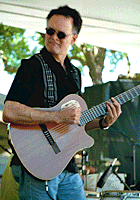 When Rolando was eight years old, he would run home from school every day to practice on his guitar.
Rolando was born in East Los Angeles, California to Armando, also from East Los Angeles, and Rebecca from El Paso, Texas. His grandparents on both sides were from northern Mexico. Rolando's father, a renowned leader in the Chicano political movement, was his first guitar instructor. He taught him fundamental classical techniques as well as instilled a keen political consciousness and an intense work ethic. His mother, a vivacious, youthful spirit to this day, loved all forms of music and sang around the house. This exposed him to everything from Mexican rancheras to June Christie; from Antonio Carlos Jobim and Segovia to '60's Protest songs; and from Ennio Morricone to John Barry. Pull all this together and you've got one of the most eclectic, educated, driven and unique musicians around.
Rolando is largely self-taught. Blessed with great ears and a natural sense of rhythm, most of what he learned came from performing in diverse bands while growing up and in college, as well as from playing with flamenco pros in mesones in Spain. Rolando has performed throughout Spain, England, Italy, Ireland, Mexico, and Hawaii. In Los Angeles, he largely played electric guitars. Just out of college, he played with a 9 piece casual band comprised of members who backed such stars as Michael Jackson, Diana Ross, Marvin Gaye, and Poncho Sanchez.
After moving to San Francisco to attend law school, he still found time to dabble in music. He played for a few years with the local Latin band Los Compas. He then returned to his passion, the acoustic nylon-stringed guitar, and co-founded the very popular band Passion and Grace in 1991 with Carlos Godinez. Together they expanded the capabilities of blending Latin jazz with flamenco, classical, Brazilian and pop influences with guitar and voice. While working a law-oriented job with the City and County of San Francisco, Rolando accepted an offer to tour Hawaii and has hardly looked back since. Passion and Grace became hugely successful in Hawaii and the Bay Area.
After disbanding, Rolando continued to perform dividing his time equally between the Bay Area and Hawaii for a couple more years playing as a soloist and leading variously sized ensembles. He moved to Oakland and concentrated on developing his band and repertoire. He now plays with world-class musicians who have backed up such luminaries as Airto, Flora Purim, Steve Winwood, Tower of Power, Spearhead, Ruben Blades, Carlos Santana, Dizzy Gillespie and many others.
Rolando Morales has just released his latest CD entitled Rolando, Y Que?! Just weeks out of the gate, it was embraced by radio stations from Alaska to New York and its popularity continues to expand. With his new album Rolando is introducing a daring, sophisticated new sound that fills the void created by so many industry-manufactured pop bands and indistinguishable "smooth jazz" sounds. Rolando now stands poised to attract a national and international audience. Here is an artist who provides a passion, power and authenticity that is greatly needed.