Talent
Specialties
Planning Links
Pan Extasy
---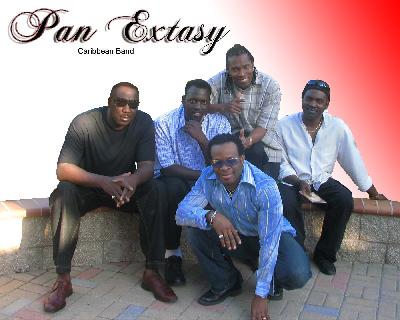 Hailing from The Caribbean, Ashton & PAN EXTASY has enjoyed continued success since its inception. They have performed throughout the USA as well as in many Asian locations, including Indonesia, Thailand, Singapore, Japan, and Dubai.
They have built a reputation as one of the most enthusiastic, energetic and entertaining bands on the International dance circuit. They perform a wide variety of Caribbean music, Reggae, Soca, and Calypso that is accessible across all age groups and musical tastes.
These five seasoned musicians combine their talents to provide great music and entertainment. Their sound is fresh and exciting enhanced with a touch of steel drum, keyboard's, guitar, bass and drums along with superior vocals that keeps their public coming back for more!
They combine outstanding showmanship with charm and talent which inevitably energizes audiences everywhere they perform. Ashton Craig, Leader and steel drum virtuoso insures a stellar performance and has always aimed to please.