Talent
Specialties
Planning Links
Mick Martin
---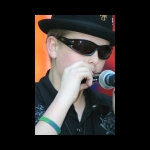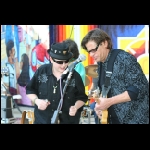 For the sixth straight year, Real Blues magazine of Canada has honored Mick Martin and the Blues Rockers as "Best West Coast Blues Band," a real coup considering the hard-core traditionalist attitude of its founder/editor, Andy Grigg. This is because the Blues Rockers, to paraphrase Paul Anka's contribution to Frank Sinatra's canon, have always "done it their way," concentrating on an individualistic blend of blues, soul and rock rather than yielding to the tenants of the blues purists.

Along with Nate Shiner and Michael Andrews, two other singer-harmonica players, Martin was an early pioneer in popularizing the blues with young audiences in Sacramento in the '60s. Just this year, Martin was picked, again by Real Blues magazine, as "Best West Coast Harp Player," sharing the honor with Mark Hummel. "Awards and reviews are great, but the real thrill for me is playing for audiences," he says.

Three tours of Europe, multiple festival appearances in the U.S. and Canada, as well as a growing legion of fans have kept them going. Martin's songwriting resulted in numerous CDs: "Blues Plate Special," "Got to Play the Blues," "Blues All Night," "Live at the Sutter Street Saloon," "Winning Hand" and "Live at Rainbow Orchards (with former Blues Rocker Harvey Mandel)" on Blues Rock Records in the U.S. Plus, they've recorded "Long Distance Call" for Double Trouble Records, Belgium/Holland and "Good Reaction" for JSP Records in England. Their work also has been featured on numerous anthologies, including "Beach Music Beat" (Rounder Records, U.S.), "A Fourth Wave of Bay Area Blues" (Taxim Records, Germany), "West Coast Wailers" (Double Trouble), "Good Times Vol. II" (Shag Music Archives), as well as appearing on the 2003 and 2004 editions of the "Blues for the Cure" live CDs, benefiting breast cancer research.