Talent
Specialties
Planning Links
Photo Booths
---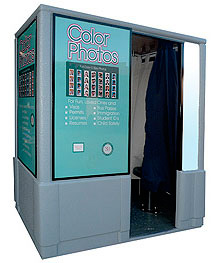 Boardwalk photo booth is the choice for the customers asking for the "classic" photo booth.
Visitors to Santa Cruz Boardwalk will certainly remember this classic original. This was the home for the photo booth for 35 years. It produced tens of thousands 4-pose strips for visitors to the Boardwalk. Originally using chemical developer technology, this photo booth has been completely retrofitted and upgraded with the latest digital technology to produce high quality photos duplicating 4-pose strip color photographs, just as the original used to be. This photo booth can accommodate up to 2 customers at one time comfortably, 3 with a challenge and 4 with a real creativity.
Hollywood Photos photo booth is the "classic" style booth.
The photobooth is fully enclosed and provides privacy for guests that want to "create" that unique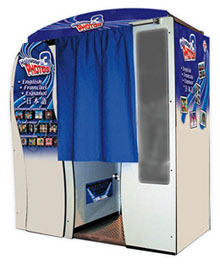 pose. The only "classic" thing about this photobooth is the look. The images produced by the photobooth are high quality digital images printed onto glossy photo paper in less than 15 seconds by the latest high resolution digital printer.
The Basic style Photo Booth is for the Client that wants the Booth in the background. Just basic black.

Words and pictures can go anywhere.
The print background can also have a design.
The two paper size choices are:
A 4 by 6 inch print with your text/graphics at bottom.
A 4 by 8 inch print that gets cut for two 2 by 8 classic strips.
The prints can be color, black and white, sepia (old fashioned) or any custom type.
The background color of each photo is determined by the curtain.
The ground color of the print itself is often white but can be a color or graphical.
Your message in any font any color and graphic also if you like.
Unlimited prints.
You own all images, archival gold CD to you at end of event.
· The number of photos can be any number.
· The graphical design of the print can be whatever you want.
· Any size is possible.
· You can make your own logo/graphics for the print. Many customers do this and their is no extra fee.
· With double prints one can be in color and the other black and white.
· Special effects are available.
· Sony Professional Print will not smear, is waterproof and has a sunscreen UV coating.
· We can mail you actual sample prints via USPS if you like.
· We can make a mock up sample print for your event.
Open Air Photo Booth is our smallest model.
It is small and compact, versatile and portable photo booth. This compact size allows us to deliver a photo booth to venues that require a small footprint or have a complicated delivery access. The photo booth produces superior high quality digital prints in less than 15 seconds on high quality glossy photo paper.