Juli Alexander
---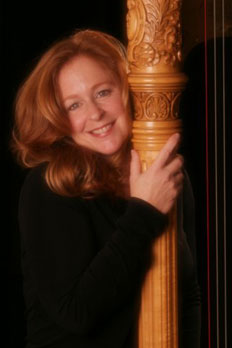 Juli fell in love with the glamour and beauty of the harp when she was 8. She started playing immediately and hasn't stopped since! Her professional career has taken her all over the world including 6 years performing on Seabourn and Royal Viking Line luxury cruise ships, The Palace Hotel in Tokyo, Japan, and several years freelancing in both Ft. Lauderdale, Florida and Monterey, California.
Although harp has always been associated with classical music, Juli's wide ranging repertoire includes Jazz Standards, Broadway Show Tunes, Movie Themes, New Age, Latin and Celtic music as well as Symphony Themes and Concertos. Harp stands well on its own as a solo instrument, however Juli also collaborates with flute, violin, cello, guitar, drums and piano. The visual grandeur of the harp goes a long way in creating an exotic or elegant atmosphere. It is also an amazingly versatile and portable instrument and the tone quality is really special in that it will carry all the way across the room without disturbing conversation close by. Most of all, the harp is a unique centerpiece that will amaze and delight your guests. Juli performs on both the Concert Grand pedal harp as well as the smaller Celtic folk harp.
Juli's love lies in performing solo or in small ensembles where she can have the most contact with her audience. "I measure my success in the joy and wonder I see in the eyes of my audience."