Bagpiper Jeff
---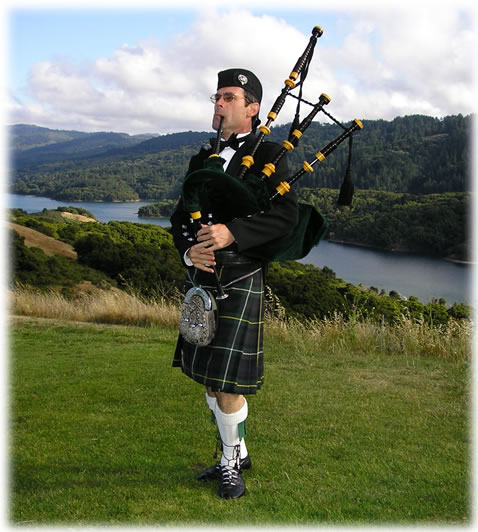 I have 30+ years of piping experience and always perform in full highland dress, Campbell tartan of course. I stay very active playing between 6 to 10 engagements a month. I've played with six time Grammy winners The Chieftains. I've performed for the Mayor of San Francisco and opened for Mark Victor Hanson, a nationally known speaker and author of Chicken Soup for the Soul.
Recipient of the "Best Legs" award, Fourth of July Parade, Orinda. I was also part of a group that played for the Queen of England when she came to San Francisco. I played on Evening Magazine, Live 105 radio station for the Alex Bennet show, a TV commercial for Tennent's Scottish beer, Channel 11 KNTV morning news, and Raiders playoff half time show. I studied under World Champion Pipe Major Donald Shaw Ramsay, B.E.M. I have played with the San Francisco Irish, Alameda Sheriffs, Dunvegan, Seattle Clansmen and Diablo Highlanders pipe bands.
If interested, I also have a drummer, Scottish highland dancers and Irish step dancers that I can bring to supplement my act.