Anna Kristina
---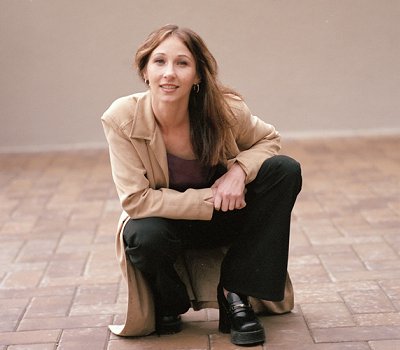 Anna Kristina is a California native. Inspired by her artistic mother and bass playing father, Anna has been surrounded by and magnetically attracted to music all her life. She had a collection of nursery rhymes under her belt before she mastered the whole "two legged walking" thing. The epiphany that singing was her calling was said to be at age 5. Her parents had an urge to introduce her to that magical little instrument known as the microphone. They decided to let her sing "Hush Little Baby" with her father's jazz band during a jam session at the house. When she finished the song and the applause exploded, her awestruck eyes and truly euphoric face swayed them to let her sing the song a second time. After the 5th "Hush Little Baby" in a row, they realized that this had become a "situation". Upon assessing the dilemma, they were left with only one choice. Combining the focused efforts of her mom, dad and a team of adults, they pried her desperate little clutching hands from the microphone and painstakingly dragged her kicking and screaming down the hallway into her room as she repeatedly bellowed "Just one more time! Just one more time!" Legend has it that, other than this historical event, Anna was generally pretty cool at social functions.
Anna performed at her first festival at age 11, singing "Summertime." She dabbled with many different musical instruments including saxophone, trumpet and piano. Piano has been the consistent instrument of choice.
Anna did her undergraduate work at UC Santa Cruz focusing on Theater Arts and American Studies with a distraction in political stuff, fountain dance stuff, pretty birds, banana slugs and ...uh...trees...and stuff. She really found her focus continually steering to the exploration of the theater, and the mesmerizing elements of jazz and singing as the lead singer in the band "Jazz on the Line" (later called "2am"). Anna moved to San Francisco to study voice. She had classical voice training in San Francisco under Edward Sayegh. Training combined with constant performing in San Francisco provided the ultimate learning environment.
There's a velvety seduction in her voice coupled with an immense range and energy that captivates one's eyes and ears. A lover of the classic songs in Jazz, R&B, Funk and Pop, elements of all come out in her singing. Particularly touched by artists such as Stevie Wonder, Aretha Franklin , Chaka Kahn, Sting, Ella Fitzgerald, Anita O' Day, and Marvyn Gaye many to refer to her as a musician's singer. It's hard not to notice the "skill, sophistication and power in her voice" and then be undeniable drawn in by her compelling stage presence. "She delivers her songs as if she is in conversation with the audience" keeping her listeners intensely engaged.
Anna Kristina loves revisiting the great songs in her own style and performs constantly in the Bay Area. Her deep respect for this music has rolled over to influence her writing. As much as she loves singing the classics she says, "There is nothing like performing your own songs." Anna expresses herself with poise, passion, and exuberance in her CD "Acoustic Soul" (an intimate duo album with guitarist Craig Olsen featuring all original music.) Her latest CD "Session 2" is a compilation of new original songs.
Anna has danced the vocal sonata at these clubs to name a few...Cafe Du Nord, Elbo Room, Bottom of the Hill, Hotel Utah, Paradise Lounge, The Last Day Saloon, Slim's, Bimbo's, The Great American Music Hall, The Kuumbwa Jazz Center, Rassela's, Enrico's, The Black Cat, Yoshi's and numerous street fairs and festivals. She's recorded with jazz saxophonist Chico Freeman, and currently performs with The Bud E Luv Orchestra. She has also had some of her songs played on KPOO and KJAZZ . She has appeared on the Bruce Latimer Show and has been featured on WB20, Bay T.V., San Francisco Sound and television promotions for the club Blondie's Bar and No Grill.
Those who have seen Anna, "You can't go see her without being instantly converted."