Twang Ditty
---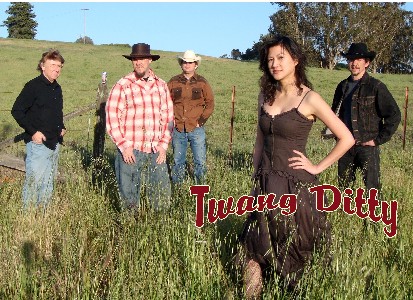 If you miss the feel of real country music, one listen to Twang Ditty will take you back with pure, heartfelt vocals and sparkling guitar licks. This is a classic country band! Twang Ditty delivers its punch with female chops on legends like Cash, Haggard, and Jennings. Backed by four seasoned musicians from diverse musical backgrounds, vocalist Maria Nguyen evokes the familiar sounds of classic country with a fresh dose of energy and bite! So come get your fill of classic ballads to flat out honky-tonk. They've got a broad repertoire covering musical territory from Nashville to Bakersfield that keeps the flame burning for every country music fan!

Twang Ditty plays regularly throughout the Bay Area at both public and private venues. As much at home in a honkytonk as at a spiffy wedding or a summer barbecue, they'll make sure to give your event the down home treatment.

So come on in, pull up a barstool, pop a top, and let them - twang your ditty!


Call us at 800-578-5780 for a songlist and audio & video samples!