Pride & Joy
---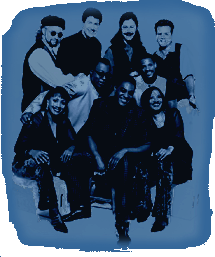 During its 25 years of phenomenal success, Pride & Joy has remained the most popular band on the Bay Area music scene. This group is the Pride of the Bay Area and a Joy to anyone who loves to dance. They have achieved this by presenting the most timeless pop/soul music of our time in an electrifying high-style show that pulls the audience directly into the heart of their performance.
Pride and Joy can play anywhere from
the most popular clubs on the circuit to wedding receptions the top society parties and corporate events everybody, everywhere, instantly relates to the music.
As evidence of Pride & Joy's across-the-board staying power, the band regularly sells out full- weekend engagements at San Francisco's permiere nightclub, the Great American Music Hall and has set a house record at New George's, Marin County's most prominent club. In addition, they have played venues in Reno, Lake Tahoe, Arizona, Southern California, Hawaii, Phoenix, Palm Springs, Los Angeles as well as other cities.