Liberty Street Jazz Band
---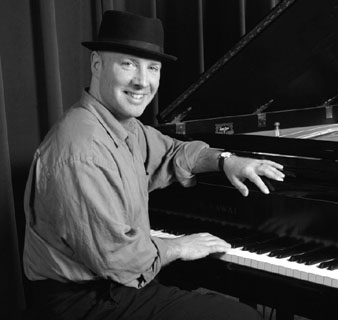 Born in England, Liberty Street Jazz Band leader Richard Hall is a graduate from the University of Nottingham where he subsidized his higher education grants with jazz dates at the local clubs such as the notorious Down's Brasserie. As a London-based professional he was involved in various jazz & rock ensembles, a publishing contract with Warner Bros. and a multitude of engagements including appearances at The Ritz, The Savoy, Covent Garden and, before coming to America, a two year run at The Hotel Russell. From 1988 to 1990 he held a lecturing post at Chichester College where he taught jazz theory and improvisation to Performing Arts students.
Arriving in San Francisco in January 1991 Richard's career continued with nightly contracts at the renowned Fisherman's Wharf restaurant A. Sabella's then at Club 36 on Union Square. Weekly engagements have included the jazz clubs Storyville, Harry Denton's, The Black Cat, Moonshine and The Plumed Horse. Appearing with various Bay Area Jazz, Latin, and Blues ensembles he has performed at most of the live music venues in the Bay Area including The Fillmore Auditorium, The Great American Music Hall, The Masonic Auditorium (with Tony Bennett), Slim's and The Mystic Theater; in 1999 he participated in the "Blue Journey" lecture/performance series presenting the history of the blues in Universities across California; and in 2001 his trio performed on stage with Ballet California at the Luther Burbank Center for the Arts presenting original choreography with his original musical compositions. In September 2004 he performed at the Russian River Jazz Festival opening for Chaka Khan, and in 2005/6 was Musical Director, Pianist and Conductor for both the "Dirty Little Secret" show (60 performances) and the Rat Pack "Tribute" show (250 performances). In July 2007 he opened the Berkeley Jazz festival at the Greek Theater.

Richard is extremely capable in all styles of jazz. He has great ability to adapt to circumstances; from subtle ambient music to high profile stage show, from New Orleans to New York, he'll always selects the optimum energy level and style.With impeccable professionalism, punctuality and presentation he is dedicated to surpassing his audiences' expectations, whether as a soloist or in ensemble.