Laurent Fourgo Jazz Ensemble
---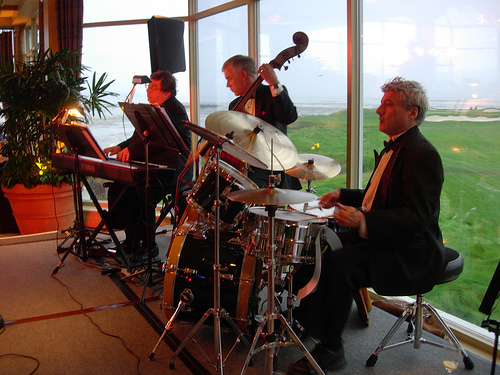 Laurent Fourgo & His Ensemble is comprised of seasoned musicians with 15 to 30 years of experience: vocals, piano, upright bass, electric bass, drums, guitar, soprano, alto, tenor, baritone sax, clarinet, flute, trumpet, flugelhorn, trombone, violin and accordion. BORN IN PARIS, FRANCE, Laurent Fourgo grew up in the southwest suburb of Paris and began studying the saxophone when he was eight years old. By the time he was 12, he switched to oboe and played in the local classical orchestra. At 16, he had decided that singing would be his main instrument.
Laurent started his first band while in the army, playing at various local city fairs and also at a black tie event attended by all the Air Force officers to celebrate the change of commander that occurs every 2 years.
After his military duties, Laurent put his desire to perform professionally aside and pursued a Masters in Business in the southwest of France. While in school, he studied with renowned French vocal coach Christiane Depero and after graduating he recognized that music was indeed his true passion.
America would be his destination. "Since age 10, I knew I wanted to live in the US: the desire possibly inspired by movies and music I was exposed to during my childhood". Laurent landed in San Francisco, put his band together and began performing at various weddings, clubs, and private parties.