Bruno Pelletier Bacquaert
---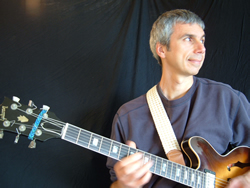 I studied guitar and Jazz Composition at the University of Miami, FL with Randall Dollahon & Ron Miller. I also studied with John Hart, Dave Creamer, Barry Harris & film-scoring with Laurent Petitgirard.
Moved to San Francisco in 1987 where I now work as a free-lance guitarist, bandleader and educator-- with performances at the world-renowned Jazz club Yoshi's with my own Quartet, at the SF Museum of Modern Art, at local Jazz Festivals, and at the Mill Valley International Film Festival.
I have played with Buddy Collette, Sonny Simmons, Norah Jones, Bruce Dunlap, Trevor Dunn ("Mr. Bungle", "Fantomas", John Zorn), Reid Anderson ("The Bad Plus"), Jenny Scheinman, Ben Monder, Steve Cardenas, Kenny Wollesen (Bill Frisell), Phillip Greenlief, J. Granelli, Adam Levy (Tracy Chapman, Joey Baron, Norah Jones), percussionist Mingo Lewis (from "Santana"), African World Beat group "Zekele Sounds", and the"Broun Fellinis".