Royal Society Jazz Orchestra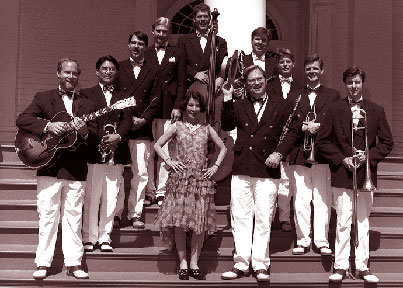 Drawing inspiration from the great bands, performers and composers of the "Jazz Age" and "Swing Era," Don Neely and the Royal Society Jazz Orchestra affectionately and authentically recapture the excitement and fascination of that musical heyday. Guided by their affinity for the superb music of innovators such as Fletcher Henderson, Paul Whiteman, Louis Armstrong, Bix Biederbecke, Benny Goodman, Duke Ellington and songwriters like Harry Warren, Fats Waller, George Gershwin, Hoagy Carmichael, Johnny Mercer, Harold Arlen, and Walter Donaldson, the Royal Society Jazz Orchestra has captivated audiences all across the country.
When the saxophones and brass sound their first rousing phrases, the audience will know they are in for a rare experience. Projecting the original and exhilarating spirit of the music, they deliver each song, from high-flying barn burners, bitter sweet love ballads and earthy blues to whimsical novelties, in a fresh and dynamic style all their own. With propulsive rhythms and inventive harmonies, their sound captures audiences in its spell and tranports them to the "Jazz Age," setting their minds and feet to dancing. A concert journey with the RSJO covers a grand panorama of classic American music, from red-hot, Harlem nightclub revues and saucy Vaudeville shows to the Broadway extravaganzas of Florenz Ziegfeld and celluloid fantasies of Busby Berkeley. The artistically fertile time known as the "Art Deco" era, gave birth to some of the most stylish and intriguing music ever created. The RSJO presents a stirring array of selections drawn from this musical cornicopia-from the most celebrated and enduring songs to newly rediscovered gems. Experiencing a performance by the Royal Society Jazz Orchestra is a wonderful tonic, alive with fun, and guaranteed to lift the spirits. The orchestra was voted #1 Favorite Big Band in the Jazzology Poll, and was voted most popular Big Band in the American Rag music poll. The RSJO's popularity and authenticity inspire many large-scale Art Deco-era-themed events in the San Francisco Bay Area and beyond.