Silicon Valley Houserockers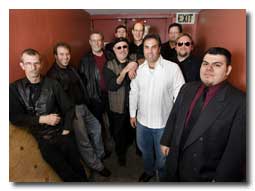 The Silicon Valley Houserockers are a rock and roll band out of Los Gatos, CA that plays the greatest rock & roll songs ever recorded. With a wailing 5 piece horn section and rock solid rhythm section of 2 guitars, bass, drums and keys, we bring the timeless rock and roll classics to life.
The music is rock & roll and classic rhythm & blues. Start with the opening riff of the Stones' Satisfaction, the good time boogie of the Sam & Dave's Soul Man, the undeniable groove of Mustang Sally, or the driving rhythm of Santana's Smooth. Add a healthy dose of honky tonk piano, swirling organ, driving drums, twangy guitars, thumping bass and the richest, hottest horn section you've ever heard and the party is in full swing. It's a recipe for a great time and the Houserockers deliver the goods. The spirit of Elvis, The Stones, Joe Cocker, Tom Petty, Bruce Springsteen, Credence, Otis Redding, Wilson Pickett, Van Morrison are present at every Houserockers show.