Royal Society Jazz Orchestra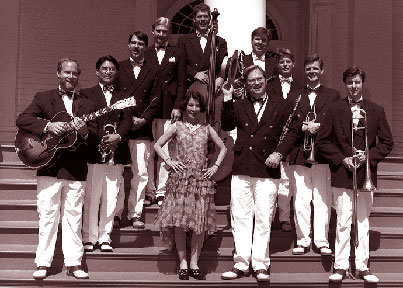 Drawing inspiration from the great bands, performers and composers of the "Jazz Age" and "Swing Era," Don Neely and the Royal Society Jazz Orchestra affectionately and authentically recapture the excitement and fascination of that musical heyday. Guided by their affinity for the superb music of innovators such as Fletcher Henderson, Paul Whiteman, Louis Armstrong, Bix Biederbecke, Benny Goodman, Duke Ellington and songwriters like Harry Warren, Fats Waller, George Gershwin, Hoagy Carmichael, Johnny Mercer, Harold Arlen, and Walter Donaldson, the Royal Society Jazz Orchestra has captivated audiences all across the country.
One of the many things that set this eleven-member ensemble apart is their genuine understanding of the music they perform. By going back and carefully studying the original musical ideas of the period, they have been able to achieve their remarkably authentic sound. The band's entertaining and talented soloists are creatively spotlighted in their exciting and varied show, providing many delightful surprises. And the RSJO plays it all - from intricately-faceted, Syncopated Jazz to ultra-sleek, Big Band Swing.