Rick Heizman (Soloist)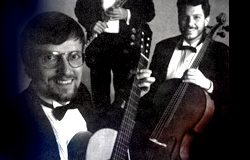 Rick Heizman is a versatile guitarist whose ensembles cover everything from classical to Jewish and Italian folk music to light jazz and pop. Especially good for cocktails and dinner receptions are the guitar/cello duo or guitar/violin/cello trio both of which specialize in classical repertoire. The trio has special arrangements for Jewish weddings and can do light jazz as background music for cocktails and dinner.
For other types of events, Rick pairs up with mandolinist, Nicola Swinburne, for a beautiful and rustic Italian ambience, or with clarinetist/flutist/saxophonist Jeff Sanford and cellist Moses Sedler for Jewish, jazz, Brazilian and popular music which acts as an elegant backdrop for any special event. Rick is also available as a soloist and covers a wide range of styles in that capacity.